Modern Australia is relatively unique in it's position occupying an entire continent, having no land borders with another country. While this provides assurance against a purely land based attack, the 60,000 km coastline offers many opportunities for seaborne invasion.
In the 19th century there was a significant fear of invasion by Britain's enemies, with over 200 'war scares'. This sense of vulnerability was fueled by the manner in which Australia was invaded and settled by Europeans. Australia's Indigenous people were displaced from the prime locations by seagoing, technologically advanced military and naval forces. These European settlers then feared that the same thing would be done to them. This was exacerbated by the sense of isolation that the colonies felt being so far from Britain.
The colonies funneled this fear into a defensive building program. This was initially concentrated on the capital cities, but by the 1890's had evolved into 13 fortified regions spread across the country.
Many of these sites are well preserved and well worth visiting. They are spread across Australia, so there are many options depending on where you are located or visiting.
New South Wales
Fort Denison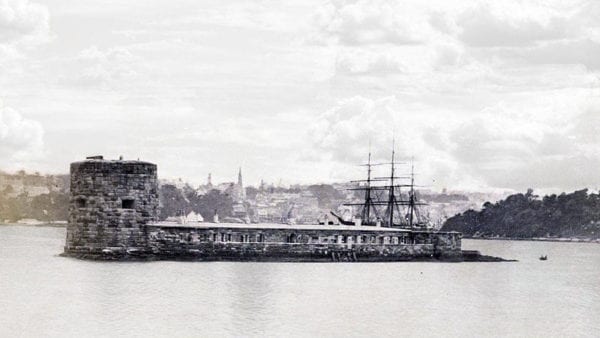 Significant fort on a Sydney Harbour island, once called Pinchgut. This former military site is the most complete Martello Tower in the world. Fortification of the island began in 1841 but was not completed. Construction resumed in 1855 because of fear of a Russian naval attack during the Crimean War, and was completed in 1857. Access is controlled by NSW Parks and Wildlife, details here.
Garden Island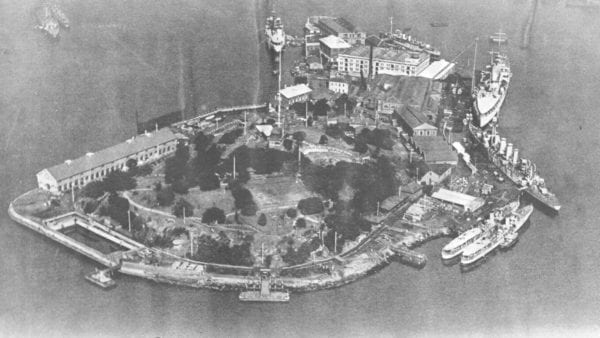 Garden Island became part of Australia's naval history just 16 days after the arrival of the First Fleet in 1788, firstly as a ships' garden. Its naval use further developed into a naval depot near the end of the 19th century, and ceased to be an island in 1945.
Many of the buildings are now over 100 years old, each having its own history, but rarely seen by the public unless through a Society tour. Almost all of Garden Island is a secure Defence area tour groups are limited in number, requiring visitor passes and escorts. These can be arranged by the Naval Historical Society of Australia, get in touch with them here to book in.
Bradleys Head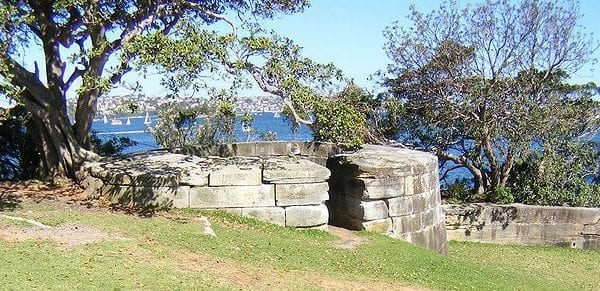 Just next to Taronga Zoo, the convict-built battery at Bradleys Head was built after four American warships arrived in Sydney Harbour undetected in 1839. Today, the mast of HMAS Sydney (I) towers over the parapet as a striking monument to the WWI warship. Defence ditches, added in the late 19th century after British troops left Sydney and remnants of earlier fortications are other features of this unique harbourside location. More details here.
Beehive Casemate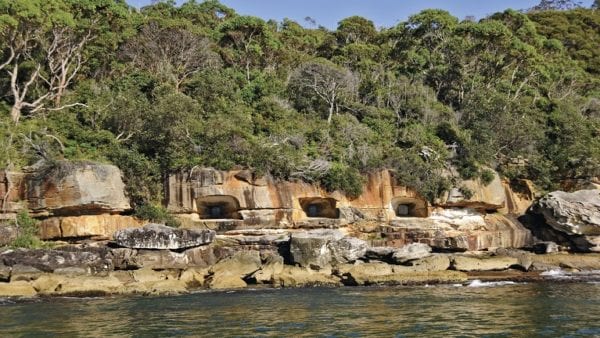 Located on the banks of Obelisk Bay in Sydney Harbour. Construction of the casement was completed in 1874. The underground casemate was one of the first to be locally designed and built after the withdrawal of British troops in 1870 and the Cardwell Reforms. The fortification contains three domed chambers that were used as gun emplacements. Each chamber had a small opening or window for the gun to fire through with each window looking out towards the Sydney Heads. The underground chambers were made of brick and mortar and were built into the excavated cavities in the sandstone bedrock. They were intended to fire on enemy ships as they navigated the passages around Sow and Pigs Reef, within the entrance to Sydney Harbour. It is accessible through periodic tours run by NSW Parks and Wildlife.
Georges Head Battery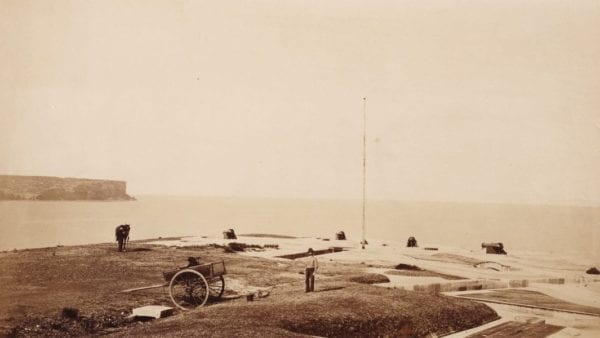 Defensive activity began in this area of Sydney Harbour in 1803 when a gun battery was installed on Georges Head. This is the oldest remaining colonial fortification in Australia and was built to defend the entrance to Sydney Harbour during the Napoleonic wars. Georges Head Battery was an outer line harbour defence fortification designed to prevent enemy ships from infiltrating the inner harbour. The fort held a prominent position and was located high above sea level with line of sight to the entrance of Port Jackson. It was improved and developed several times over the century. It is located in the suburb of Mosman, details are here.
Bare Island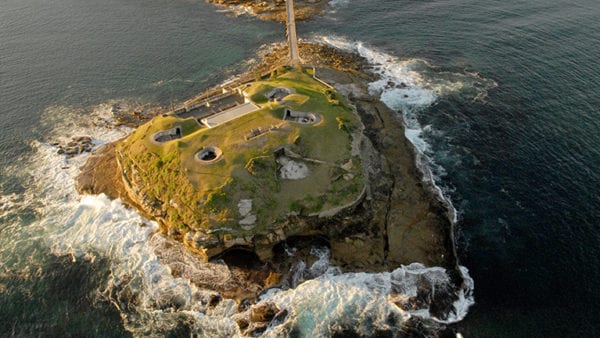 Designed as a small fort in Botany Bay to protect against small squadrons of hostile cruisers making a raid on Sydney and holding it to ransom for its gold reserves. Completed in 1886 it was normally manned by around 70 soldiers. It saw service for a relatively short period of time, by 1908 it was no longer used defensively and was converted to Australia's first war veterans home. The fort is now houses a museum and is accessible by guided tour, details here.
Victoria
Fort Nepean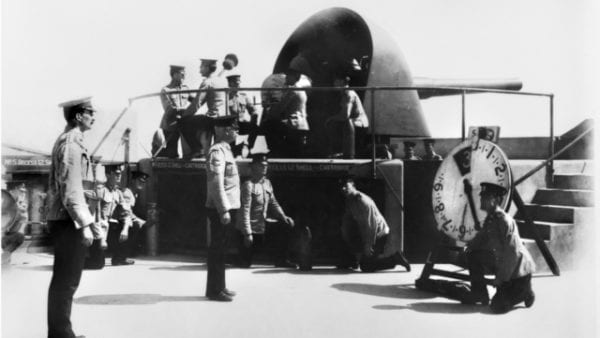 Fortifications and barracks were built on Point Nepean from 1873 and gun batteries were installed in 1886. By the 1890s Fort Nepean was known as "Victoria's Gibraltar". The barracks housed a Company of the Royal Victorian Volunteer Artillery Regiment.
The first shot of World War 1 was fired from Fort Nepean. On 5 August 1914, the German ship SS Pfalz attempted to escape from Port Phillip. Within minutes of being notified that war had been declared, Lieutenant-Colonel Sandford at Fort Queenscliff gave an order to Lieutenant C Morris, the Fire Commander at Fort Nepean, to "stop her or sink her". After the Pfalz ignored signals to halt, the B1 gun fired across her bow. The Pfalz then turned around and the crew was arrested at Portsea.
This distinction was repeated in World War 2. At 1.30am on 4 September 1939, within hours of war being declared, the A1 gun fired across the bow of a ship which failed to identify itself. The ship then identified as the Australian freighter SS Woniora. These were the only occasions any of the Port Phillip batteries fired in anger.
The Forts in Port Phillip Bay, published in 1959 by the Military Historical Society Of Australia gives an interesting perspective both of the fortifications and the time in which it was written. I was surprised by its discussion of Port Nepean potentially being used as a Nike Missile site.
Fort Nepean is well worth visiting, with extensive well marked walking tracks to allow you to visit many of the batteries and other installations, details here.
Fort Queenscliff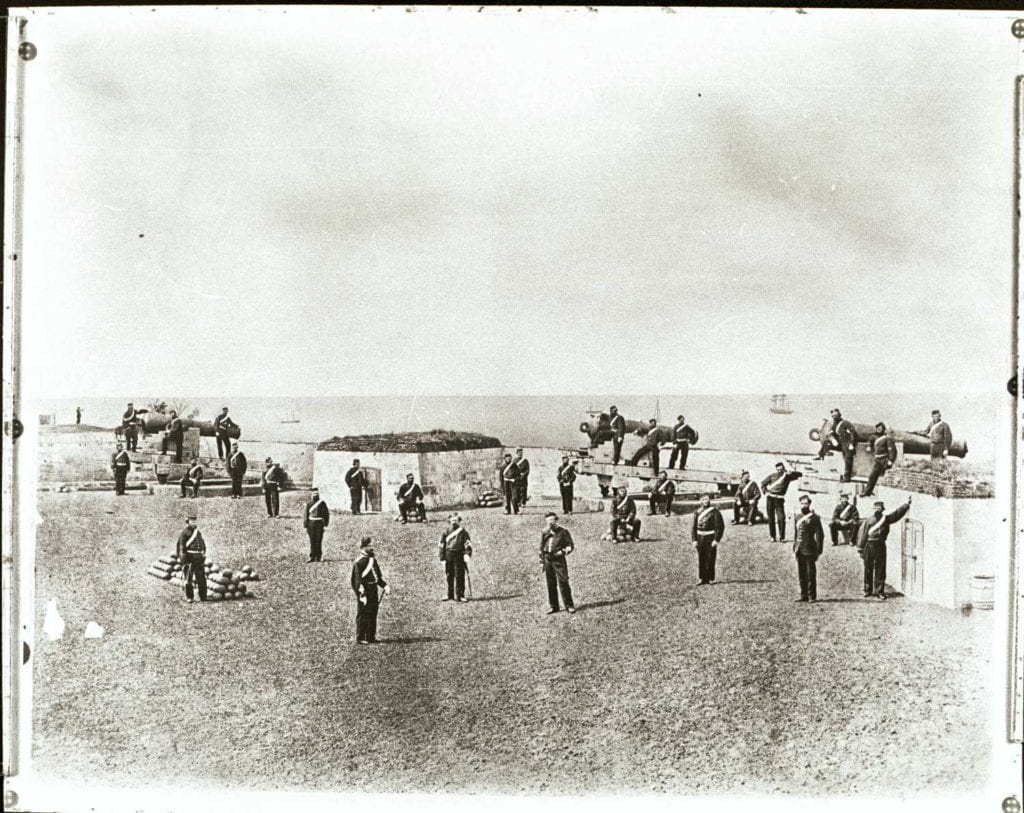 Fort Queenscliff is on the Bellarine peninsula, near Geelong. It was established in 1860 when an open battery was constructed on Shortland's Bluff to defend the entrance to Port Phillip. The Fort underwent major redevelopment in the late 1870s and 1880s, becoming the headquarters for the chain of forts around Port Phillip Heads. This made Port Phillip one of the most heavily defended harbours in the British Empire. Its garrison included volunteer artillery, engineers, infantry and naval militia, and it was manned as a coastal defence installation continuously from 1883 to 1946.
The fort is accessible by guided tour only, which is highly recommended. There is also an extensive museum. You can get the details here.
Tasmania
Kangaroo Bluff Battery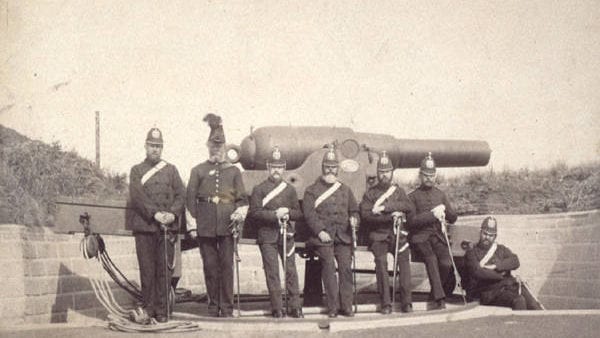 Hobart had some of the earliest coastal defences, with batteries emplaced around the town from 1804 onward. However the early defences suffered from poor placement or quality of construction. The arrival of three Russian warships in 1882 on a goodwill mission provided motivation to build a network of more effective emplacements.
The Kangaroo Bluff Battery was completed in 1885 with the installation of two huge Armstrong 8″ 12.5 Ton guns which are still in place. The battery had integrated defences to ensure it could repel an infantry attack, it's position at the top of the top of the sheer cliffs also helped.
The battery can be visited as part of the Bellerive Heritage Walk, which takes in many interesting parts of Hobart's history. More information about visiting the battery is available from the Tasmania Parks and Wildlife Service and Clarence City Council.
Alexandra Battery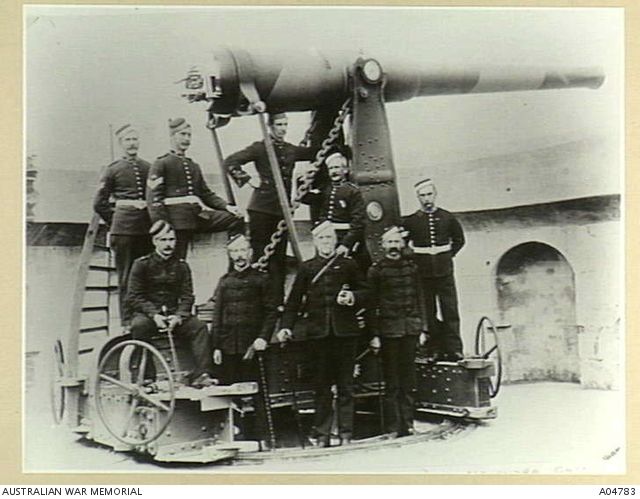 The Alexandra battery was sited to protect the entrance to Sullivans Cove. It formed a triangle of defences along with Queens battery in the domain and the Kangaroo Bluff battery. It was smaller than the other two batteries, equipped with two 6″ disappearing guns.
The Alexandra battery site is now a public park with commanding views of the river. The revetments, earthworks and some tunnels are still accessible. Information for visiting it here.
Queensland
Fort Lytton – Brisbane
Fort Lytton was built in 1880-1882, and operated until 1965. It was located at the mouth of the Brisbane river, and was designed to deny enemy vessels access to the river. This was initially achieved by a remote-controlled minefield across the mouth of the river, and four muzzle-loading heavy guns. By 1888 these guns were replaced with two 6-inch (150 mm) 100pdr breech-loading disappearing guns. The minefield was closed in 1908, but the disappearing guns continued in operation until 1938. These are still installed and are fascinating to see.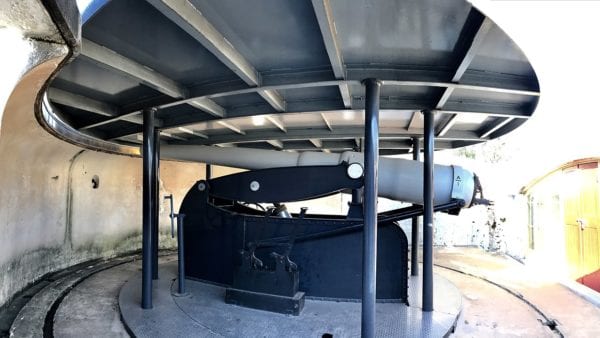 Fort Lytton is Queensland's foremost military exhibit, with extensive historic fortifications, Queensland's largest military museum and regular military re-enactments. Get details here.
South Australia
Fort Glanville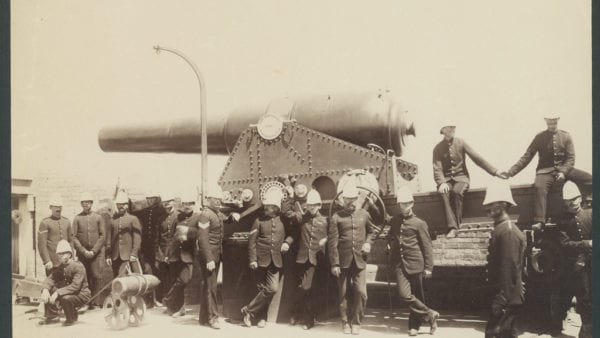 Construction of Fort Glanville began in 1878 as the first colonial fortification in South Australia. It was designed to defend both Semaphore's anchorage and shipping entering the Port River from naval attack. By 1890 changes in the Port River and shipping movements meant it had limited defensive significance and Fort Largs had overtaken it as the primary defense for Adelaide. It was briefly used for military purposes during World War I and World War II, though not for its original defensive role.
It is the best preserved of all the early forts in Australia and has an extensive program of re-enactments. The integrated land and naval defences are fairly unique in Australia and are well worth seeing. Details here.
Western Australia
Princess Royal Fortress – Albany
This fortress was the first federal defence project in Australia and involved co-operation before formal federation. All the Australian states contributed funds to build the fortress and the British Government provided the guns. It was opened in 1893.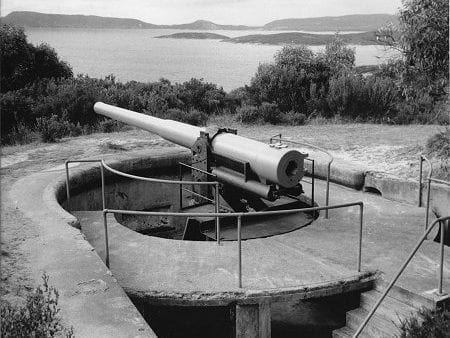 Two gun batteries were dug into the hillside of Mount Adelaide: Fort Princess Royal with two 6-inch guns, and Fort Plantagenet with one six inch gun. From 1893 to 1956 the guns never fired a shot in anger. In 1956, with the advent of the missile era coastal defenses were made redundant and Princess Royal Fortress was closed.
The National Anzac Centre is located within the grounds of the heritage listed Princess Royal Fortress. This excellent museum shows off the history of the Fort and many other aspects of military and naval history. Get the details here.