History Guild General History Quiz 125
See how your history knowledge stacks up!
Want to know more about any of the questions? Once you've finished the quiz click here to learn more.
Have an idea for a question? Suggest it here and we'll include it in a future quiz!
The stories behind the questions
1. Where and when was this picture taken?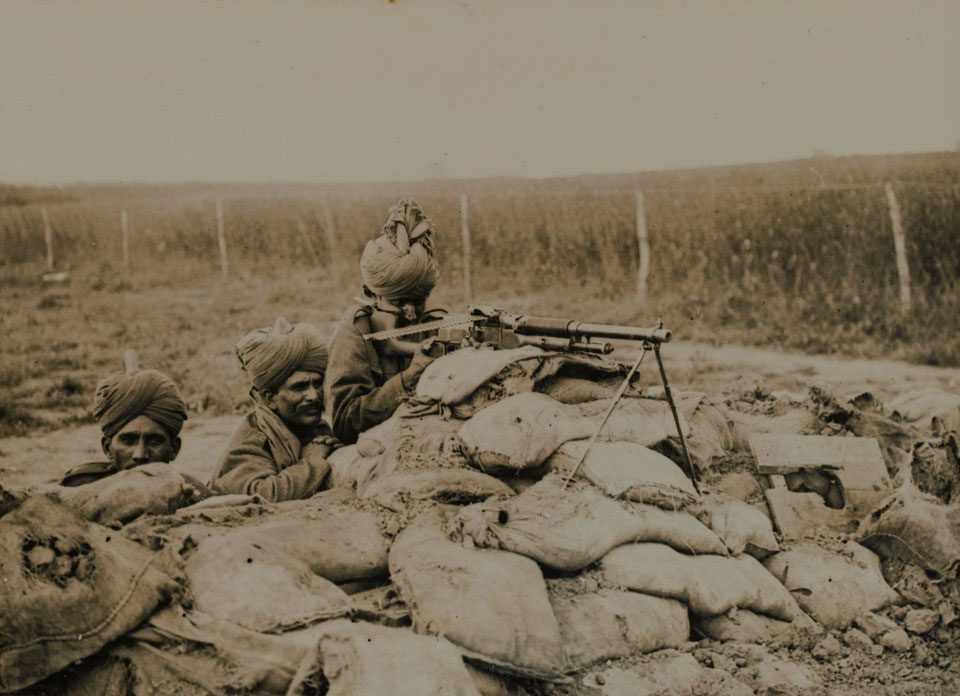 Belgium, 1915 – A Benet-Mercier machine gun section of 2nd Rajput Light Infantry in action in Flanders, during the winter of 1914-15. The Indian Army during World War I contributed forces to the European, Mediterranean, Middle East and African theatres. Over one million Indian troops served overseas, of whom 62,000 died.
Field-Marshal Sir Claude Auchinleck, Commander-in-Chief of the Indian Army from 1942 asserted that the British "couldn't have come through both World War I and II if they hadn't had the Indian Army."
2. Who wrote The Canterbury Tales?
Geoffrey Chaucer – a collection of twenty-four stories written in Middle English between 1387 and 1400. The tales are presented as part of a story-telling contest by a group of pilgrims as they travel together from London to Canterbury to visit the shrine of Saint Thomas Becket at Canterbury Cathedral. The prize for this contest is a free meal at the Tabard Inn at Southwark on their return. There is limited evidence that Chaucer personally visited Canterbury.
3. Which dynasty ruled India during the 'golden age' from 320-550 CE?
Gupta – Read more about this period of Indian History.
4. When Germany invaded Poland in 1939 what percentage of the US population supported providing assistance to Poland?
5% – Many Americans viewed World War II as a European problem and did not see America as having a role to play. There were also large numbers of Americans who had either immigrated from Germany, or were descended from German immigrants. This group opposed intervention, or advocated for supporting Germany. Isolationist organizations like the America First Committee sought to influence public opinion through print, radio, and mass rallies. Aviator Charles Lindbergh and popular radio priest Father Charles Coughlin were the Committee's most powerful spokesmen.
5. Where was the first underwater tunnel built?
London – The Thames Tunnel beneath the River Thames in London, connecting Rotherhithe and Wapping. It's 396 m long, running at a depth of 23 m. below the river surface. It was built by between 1825 and 1843 by Marc Brunel and his son Isambard. It is still in use, now part of the East London Line extension of the London Overground railway.
6. Which colonial power ruled Goa from 1510 to 1961?
Portugal – From 1950 India began applying pressure to Portugal to farce them to leave Goa. The Portuguese regarded Goa as part of Portugal and refused to negotiate. This culminated in an Indian invasion in 1961, which expelled the Portuguese. 30 Portuguese and 22 Indian soldiers were killed during the 2 days of combat.
7. During WW2 where did Special Operations Executive (SOE) deploy the most operatives?
Burma – It is estimated that SOE recruited around 20,000 indigenous personnel for operations in Burma.
8. Building the first Pyramid in Egypt around 2660 BCE, who is the first named architect in history?
Imhotep – Imhotep was an Egyptian chancellor to the Pharaoh Djoser and probably the architect of Djoser's step pyramid, which is the earliest colossal stone building in Egypt.
9. What was the first food crop to be farmed in the Americas?
Maize – first domesticated by indigenous peoples in southern Mexico about 10,000 years ago. There was also early farming of squash at a similar time.
10. When was the Golden Gate bridge completed?
1937 – At the time of its opening in 1937, it was both the longest and the tallest suspension bridge in the world, with a main span of 1,280 m and a total height of 227 m.