History Guild General History Quiz 167
See how your history knowledge stacks up!
Want to know more about any of the questions? Scroll down to learn more!
Have an idea for a question? Suggest it here and we'll include it in a future quiz!
The stories behind the questions
1. When did the transportation of convicts to Australia end?
1868 – The convict transport Hougoumont arrived at the port of Fremantle with 269 convicts, the last to be sent to Western Australia. The ship's arrival marked the end of 80 years of continuous penal transportation to the Australian continent.
2. In which conflict was a jet aircraft first shot down?
WW2 – German Me 262 jet fighter aircraft were shot down shortly after they entered service in 1944.
3. In 1975, following its independence from France, what did the Republic of Dahomey change its name to?
Benin – The Kingdom of Dahomey existed from approximately 1600 until 1904. It then became part of a French colony, French Dahomey and gained independence in 1960. In 1975 it was renamed Benin.
4. The Molotov cocktail is named after the former Foreign Minister of which country?
USSR – The name Molotov cocktail was coined by the Finns during the 1939 Winter War in reference to Soviet foreign minister Vyacheslav Molotov, who was one of the architects of the Molotov–Ribbentrop Pact on the eve of World War II.
5. Since 1969 there have been 54 Nobel Prizes in Economic Sciences, which have been awarded to 92 individuals. How many of these were women?
2 – There were no female Nobel laureates in Economic sciences prior to 2009, and none have been awarded it in their own right. Elinor Ostrom received the award in 2009 shared with Oliver E. Williamson, in 2019 Esther Banerjee shared her award with Abhijit Banerjee and Michael Kremer.
6. How did Philip II of Macedon, Alexander the Great's father, die?
Assassinated – While there was speculation that either his wife, his son Alexander, or both were responsible for his death, modern analysis is unable to determine who ordered his assassination.
7. During WW2 the USA awarded 443 Medals of Honor. How many of these were awarded to African American Servicemen?
0 – Despite over 1 million African Americans serving in the military during WW2 none were awarded the Medal of Honor. This was a significant downward trajectory from the twenty-six African Americans who earned the Medal of Honor during the American Civil War, the eighteen during the Indian Wars, the six during the Spanish–American War and two during WW1.
8. When did Mexico achieve independence?
1821 – Mexico achieved independence after their 1810 to 1821 war against Spain.
9. What was the nickname for this weapon?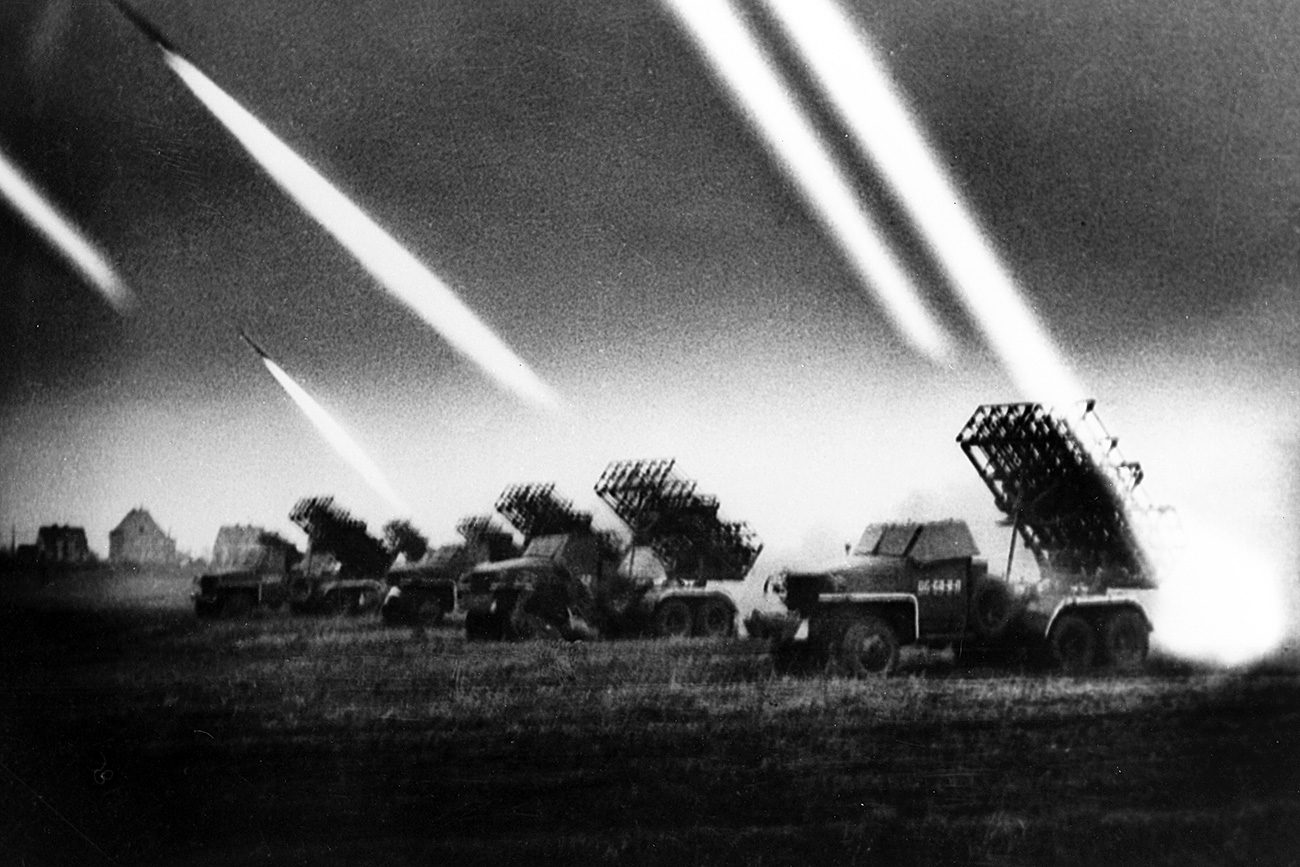 Stalin's Organ – German troops coined the nickname 'Stalin's organ' (Stalinorgel), based on the resemblance of the launch array to a pipe organ and the distinctive howling sound of the weapon's rocket motors. These Katyusha rocket launchers had a relatively simple design consisting of racks of parallel rails on which rockets were mounted, with a folding frame to raise the rails to launch position. Each truck had 14 to 48 launchers.
10. There have been three Popes who were born in Africa. When was the most recent one elected?
492 – A Berber, Pope Gelasius I was born in Roman Africa.